Wednesday~
Travelled by bus to the Fine Arts Center in Highland Park to put up our art show! Putting up the show is always fun.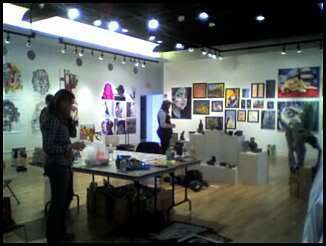 ( the big painting on the left of the far wall is mine. so is the second of the two on the right. )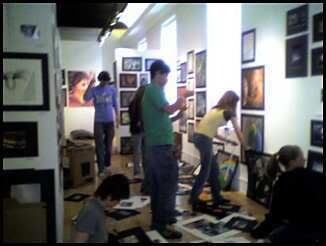 ( omg Alana, Lizzee's puttin up one of your puking doods xO )




There were a bunch of other pictures buuuuut my phone is stupid and it takes forever for me to get them on the computer. I'm gonna be bringing my real camera to the opening tonight.
I have nine or ten pieces up in the show, I think.

Thursday~
AP Art Day xOOOOOOO
Oh my god might be my favorite day of the year.
Set up tired me out unfortunately- those drawing tables are NOT light. But soon enough we were just sitting around workin on whatever. Did a quick picture of my sister (it has little pink ducks of DOOM in the background, by the way) from a sketch I did a long long long time ago aaaand did some stuff in my new sketchbook. I finally decided to get a moleskine aaaaand I'm in love with the paper. Colored pencils and my drawing pens work sooooo much better in it than my old book.

Friday~
(the plan, anyways.)
I just missed the last two days of school but the only big thing that I really missed was the Biology test (topic: membrane). I'm going to make that up today during 8th, I think.

After schoooool I go home for a bit. Then we're goin out to dinner with Grandma Darlene (maybe gramps too, but we'll have to see about when he gets off work) (yes, I was named after my grandma, for those of you who didn't know) and then gonna try to find the Art Center. Last year my parents had a hard time finding the damn place.
Aaaand I'm gonna hang out there for a while.
And then I forgot that me and the girls were supposed to do some movie night but I'm not sure if I'm gonna go for that. It depends on when we're at the show and when we leave. I'll talk with em at school and try to figure out some plans.